wear pipe
Caster wear pipe is a bimetal pipe made of seamless steel base pipe onto which chromium carbide overlay is welded with an open arc process. We use an oscillating table with one welding head to arc weld the chromium carbide to the internal of the pipe. We can handle diameters from 6" up to 24" after which we fabricate the pipe from our Chromium Carbide Overlay Plate. The overlay is deposited perpendicular to the flow of material through the pipe resulting in a longer wear life.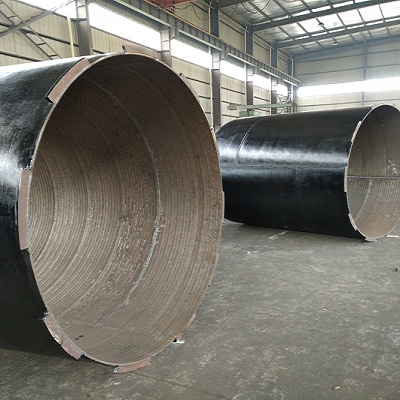 Quality:
If the quality didn't match your expectation, you can ask us for refund or you can ask us to send replacements to you.
You're welcome to visit us for inspection purpose. Every customer is too valuable for us to lose. Being honest is the best way to keep our business humming.

wear elbow: Our Chromium Carbide Overlay Elbows are welded with the same material. Overlay is deposited in either a single pass application which is 1/8" to 3/16" thickness or a double pass application which is 1/4" to 3/8" in thickness. Wear life of our Overlay Pipe can be up to 15 to 1 over standard wear pipe. The longer wear life of our products reduce maintenance hassles, costly down time, and material loss.
Wear Pipe types
1.Steel pipe with regular base material + overlay, pipes are welded using oscillating table with one welding head to arc weld the chromium carbide to the base material.
2.Bending the wear plate into round pipe.
3.Assembling the wear plate into square pipe.
automatic welding, metallurgical bonding, available to weld the minimum pipe diameter of 80mm and maximum pipe length of 3000mm.
Wear Elbow types
1.Weld directly on the elbow wall
2.wear plate used to make joint form
Square to Round Transition
Wear plate used to make tube with round top and square bottom.
Product Name




chromium carbide overlay alloyed anti wear tube




Brand




caster

Base Plate




Q235/Q345




Hardfacing layer




High chromium high carbide overlay (Hard layer face out or face in)




Chemical Composition




C(%): 3.0-5.0, Cr(%): 25-40,

Mn(%): 2.0-3.0, B(%): 0.7-1.0




Hardness




HRC58-62




Surface Treatment




Hardfacing, clading, coated

Technique




Hardfacing, open arc welding, submerged arc welding




Minimum Inner Diameter




80mm




Wear Resistance




High wear resistance




Thickness




3+3,4+4,5+5,6+4,6+5,6+6,8+4, etc. Customized




Place of Origin




China




Application




Mining, Steel, Cement, Power, Port, etc.



Our Advantages